See how Kate's skills helped Festival Mozaic on a Public Relations call.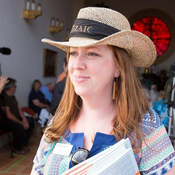 To provide powerful live music experiences of classical and classically-inflected music on the California Central Coast.
What did Bettina need?
We would like you to review a press release and offer suggestions for how to distribute it to get more media attention.
Matched On
Oct 14, 2016
Saved
$402
Have professionals like Kate help you on a Public Relations call
Post this call
Volunteer
Hello there--I'm a former business journalist (BusinessWeek, WSJ etc) and marketing writer who went freelance in 2009 to raise my family. The best advice I can give you, really, is that when you write a press release consider your 'job' to be that of making a journalist's life easier: Hand them a...
Read More
What did Kate have to offer?
Ten-plus years in journalism for a wide range of publications, combined with a skill for strategy and execution homed in the corporate sector, puts me in a good position to help as you move forward on trying to land story placements.
This project was left open after our Executive Director (Bettina) left the organization! Sorry...