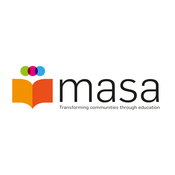 Stats

Saved
Managers
Did you know that about 40% of Mexican youth residing in NYC have not graduated from and are not in high school? This is the highest dropout rate of any ethnic group in NYC. MASA works to address this educational crisis by promoting educational attainment among these underserved students. MASA encourages students to strive to their fullest potential by setting and achieving academic goals in its tutoring and mentoring program while also providing supports to their parents and family members.
As the Mexican population in New York City grows at an exponential rate, the educational attainment problem within this community worsens. This problem of extremely low educational attainment proves especially unsettling because Mexicans constitute the fastest-growing major immigrant group in the City, currently numbering nearly 500,000.

MASA's educational initiatives have been successfully addressing the educational challenges facing the Mexican community. We seek support now to sustain and expand these efforts. Doing so will give us a chance to dramatically improve the educational future of this emerging, major ethnic group in the City, whose educational statistics at current are alarming.

Since 2001, MASA-MexEd has been working to create two-generation strategies to achieve solid academic returns for children of Mexican descent, as well as bolster parental engagement in their children's schools. Ultimately, the organization advocates the creation of a strong educational pipeline that supports students during key educational transitions: from middle school to high school, from high school into college, and from college admission to completion of a degree.

COMMUNITY & ECONOMIC DEVELOPMENT
EDUCATION
PHILANTHROPY & CAPACITY BUILDING
YOUTH DEVELOPMENT