See how Kristi's skills helped Africa Volunteer Corps on a Copywriting project.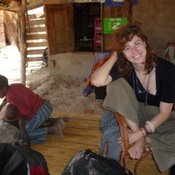 Africa Volunteer Corps is a service corps for Africans to do long-term volunteer work in African-initiated development projects. We train and place African university graduates at local, grassroots NGO's in Africa to work for one year. The goal of AVC is to harness the power of motivated, edu...
Read More
Matched On
Sep 29, 2011
Saved
$3750
Volunteer
I am a marketing professional with exposure and understanding across many disciplines. My experience includes: MARKETING (4 years) Account Management with a 25/75 strategic/tactical role for clients ranging from start-ups to Fortune 1000 clients across consumer goods, nonprofit and B2B indu...
Read More
What did Kristi have to offer?
Experiences like this organization provides for its volunteers seem so beneficial for both the volunteer and the NGOs. I'd love to be a part of a project and organization that empowers people to improve the world around them in an area of the world that has so many obstacles to overcome. From a writer's perspective, the work this group does lends itself to so many compelling, powerful stories and I'd love to help share those stories. I'm a marketing professional with experience across many disciplines - copywriting, marketing strategy, account management, public relations, journalism and event planning. Most of my background is agency experience so I've worked with clients in many industries from consumer packaged goods to B2B to nonprofit. While I enjoy all aspects of marketing, my passion is writing. In general, I'm responsible for all copywriting responsibilities with my clients which includes corporate collateral, website copy, newsletters, blogging, social media and more.