See how Madeline's skills helped The Arctic Institute on a Print Materials Design project.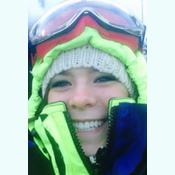 TAI envisions a world in which the Arctic's diverse and complex sources of insecurity are identified, understood, and innovatively resolved. We hope to achieve this by informing Arctic policy across the circumpolar region through objective, multidisciplinary, and innovative social science researc...
Read More
What did Victoria need?
We are looking for a graphic designer to help us bring our Annual Report to life! We have done some amazing things in 2016, from starting a youth writing program to holding workshops of traditional knowledge and climate change, and want to highlight them for our readers, target audiences, donors, and the Arctic Council - the governing body of the Arctic to which we have applied to be an observer NGO. The Arctic Council takes the Annual Report as a vital part of the decision process. Please help us make a compelling and visually appealing Annual Report!
Matched On
Feb 1, 2017
Saved
$3002
Have professionals like Madeline help you on a Print Materials Design project
Post this project
Volunteer
Here's the story. One time I went backpacking in Yosemite and it changed my outlook on a whole bunch of things. For example, a career path. Former graphic design major, copywriting intern, Young Life leader and rock wall staff, I now find myself pursuing a career in outdoor adventure. Life's t...
Read More
What did Madeline have to offer?
I have always had a passion for the outdoor industry and am proud to promote it daily at work. However, the importance of our land, especially in the Arctic, is becoming more and more overlooked and under-appreciated, putting it in harms way. I believe putting data and cold hard facts in front of people is a great start to an effective solution. I earned a Bachelor of Arts in Graphic Design and am proficient in the Adobe Creative Suite. I am currently a full-time (40 hours a week) design intern for the National Outdoor Leadership School where I design print materials such as postcards, booklets, posters, etc. I feel well prepared to take on your project and am excited about it's implications on the Arctic.
Madeline went above and beyond our expectations for our Annual Report. She made our achievements come to life through her insightful and innovative design and layout ideas and implementation. She was timely, listened to our needs, and a responsive designer. I would highly recommend Madeline to an...

Read More