See how Amelia's skills helped Festival Mozaic on a Social Media call.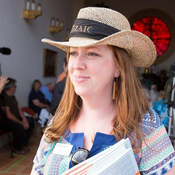 To provide powerful live music experiences of classical and classically-inflected music on the California Central Coast.
What did Bettina need?
We would like to talk about improving our Facebook page's engagement; understanding our demographics and selling tickets to events on this platform.
Matched On
Oct 7, 2016
Saved
$392
Have professionals like Amelia help you on a Social Media call
Post this call
Volunteer
I'm a designer, illustrator, and maker living in Manhattan, NYC. As a creative, I'm a designer from Parsons School of Design, focusing in graphic, product, and UX/UI. I have a vision and was strongly inspired by Monica Wellington's Children's Book Illustration class at School of Visual Art...
Read More
What did Amelia have to offer?
I'm a User Experience and User Interface designer with about 3 years in the industry. My team and I work across different social media platforms, and I can help you optimize your page!