See how Steven's skills helped Festival Mozaic on a Brochure Graphic Design project.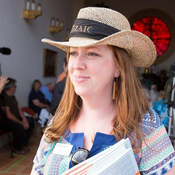 To provide powerful live music experiences of classical and classically-inflected music on the California Central Coast.
What did Bettina need?
As a Festival, we present many events with many artists each year. Communicating our impact through an Annual Report is so necessary! Publishing this for existing donors and for new donors is critical. We've produced one in-house for the last two years, but it's taken too much time from our staff, who is already stretched thin. A clean, elegant, well-designed piece will bring our our clean, elegant performances to life and help us raise much needed funds. Ultimately, we want our great performances to reach more people and that isn't possible unless they know what we're up to!
I worked with Bettina on the Festival Mozaic Annual Report.... The requirements were clear and they did plenty of prep work before bringing me in with all my requirements to get the job done ... 18 days before deadline...The Report turned out TOTALLY AWESOME :)
Matched On
Oct 6, 2016
Saved
$4212
Have professionals like Steven help you on a Brochure Graphic Design project
Post this project
Volunteer
I have 25 years cross-industry experience as a designer // creative in layout, production, visual marketing, print, visual development, photo books, look books, magazines, and presentation decks. Editorial // Layout // CPG // Look Books Lifestyle // Hospitality // Fashion // VMD Travel /...
Read More
What did Steven have to offer?
Good Evening Bettina I'm looking to do more design type work for Foundations, Associations, Music, Museums.... if it be african wildlife, humanity based projects, saving the rain forests, helping our environment or ocean based projects with its super delicate ecosystem. Thank You for your consideration Steven King Designer I have 20 years cross-industry experience as a Designer Editorial // Layout // CPG // Look Books Lifestyle // Hospitality // Fashion // VMD Travel // Real Estate // Wildlife Print // Retail // ID // Music // Food // UX Production // Prepress // Concept Design Brand Design // Photography Concept With innovative thinking, fresh original ideas, keen sense of trends and strong ability to express and implement those ideas over a wide range of disciplines making myself an invaluable resource. Thank you for your consideration PORTFOLIO: http://www.krop.com/steven-king/
We worked with Steven to produce our organization's Annual Report. The project took about a month to complete, and Steven came up with a great design and moved the project forward in a MAJOR way. He was easy to work with and we are so pleased with the report! I am excited to use it when we make p...

Read More