Oct 12th, 2022
A Beginner's Guide to Starting a Nonprofit
Here are the questions to ask as you get started.
You might have a great idea, but you're not sure if it can turn into a real, functioning nonprofit organization. If this is the case, you should take a look at some of the steps in how to start a nonprofit and how to turn your idea into a reality. If you have a unique idea, and you want to create a nonprofit, there are a few things you should do first.

This information provided and comprehensive guide on how to start a nonprofit from our in-house team of nonprofit experts contains the recommended questions to ask and the actions you should take.

Catchafire connects nonprofits with skilled volunteer professionals from around the globe, ready to provide expertise in key areas like marketing, design, strategic planning, IT, finance, and more. With the support of grantmakers, Catchafire provides nonprofits with the unrestricted capacity support and resources they need so they can focus on their missions and communities.

Frequently Asked Question: What is a Nonprofit?

A nonprofit, also known as a non-profit organization, nongovernmental organization (NGO), or not-for-profit organization, is a type of organization that does not have the intention of making a profit. Nonprofits and public charities are dedicated to furthering a social cause, such as humanitarianism or environmentalism. They are often funded by donations, membership dues, and grants, but some also generate revenue through fundraising, events, or other commercial activities.

A Step by Step Guide: How to Start a Nonprofit
First Things First: Do Your Research

Before you go down the road of launching a nonprofit, extensive research is needed. Here are some frequently asked questions as you consider how to start a nonprofit:

What is the cause that you are really passionate about - is there currently a need for support services in this area? Will your mission resonate with the community?


Are there any existing organizations that already address this need? How will your organization differ?


What type of nonprofit are you seeking to launch? Will your organization have a political or lobbying angle? Where do you want to raise money from? Each nonprofit designation has various restrictions and benefits depending on your answers to these questions.

The most common nonprofit type is 501(c)(3), which raises money through grants and donors. They must abstain from political or lobbying activities and fundraising. Any political or lobbying-related activities must be restricted to 10% of their operational budget.


Do you have the financial capital associated with starting a nonprofit? Have you identified and secured your startup operational costs?


Do you have the time to invest long-term in launching and maintaining your nonprofit? Are you prepared for the ongoing responsibilities and accountability that comes with being a nonprofit founder?

We know that you want to help your community and get started right away – but comprehensive research is necessary to set yourself and your organization up for success. Seek the advice of business, legal, and financial experts to develop a strong understanding of the nonprofit sector and what starting and maintaining a nonprofit entails. Speak to other nonprofits in your community to learn more about their programming and operations, and ask them for tips and advice. They will be best positioned to paint an accurate portrayal of what you can expect.

Starting a nonprofit organization is a big undertaking, but it can be a very rewarding experience, for you and your community. We've developed a comprehensive guide to answer all of your questions about how to start a nonprofit.

Once your comprehensive research is done, here are the basic steps to starting a nonprofit:


1. Choose a name for your nonprofit.

Brainstorm a name that is catchy and will accurately represent your cause area. What do you want your audience to feel when they come across your name? Avoid lengthy names that will be difficult to pronounce or remember. As you narrow down on potential names, check website domains, social media handles, and with your state's business filing institution to ensure that your name is available and that you won't need to think of any alternatives.


2. Develop your mission, vision, and values statements.
This is the first piece of information provided to public audiences when they come in contact with your nonprofit. The first thing donors search for to learn more about you is your mission, vision, and values statements. For all of these statements, keep readability in mind so that you do not alienate any audiences or donor prospects; write your statements at a seventh or eighth grade reading level. This ensures your communications are simple, direct, and easy to understand.

Your mission statement should be clear, concise, and inspiring, as you articulate your nonprofit's purpose. What does your nonprofit do - how and why? What services and programs do you provide? What values does your organization represent? What is your anticipated result?

Your vision statement embodies the collective future your nonprofit envisions and is working towards through its work. What would the world look like if your organization achieved their mission?

Your values statement describes the core principles all members of your organization will abide by in the decision-making and implementation of your nonprofit. These principles will be demonstrated by the character and actions of your Board of Directors, staff, and volunteers. Values statements describe ethical behavior, and how these will be executed in daily operations by the nonprofit.

Here are some great examples of mission, vision, and values statements: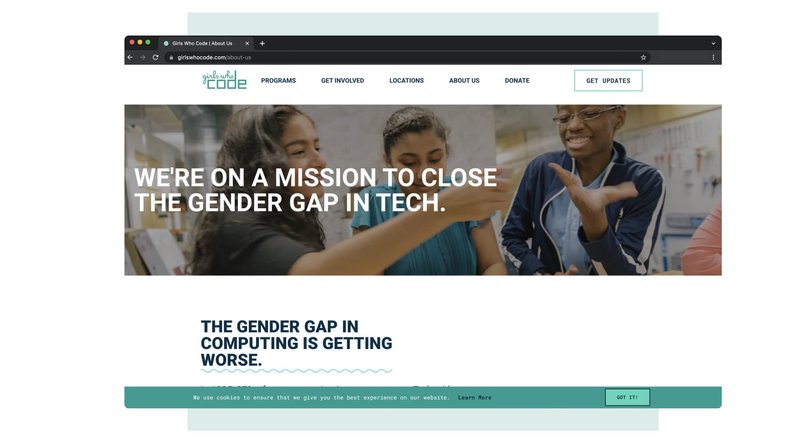 3. Choose a Board of Directors.
It is important to have a board of directors who can help you start and manage your nonprofit. This board should be composed of individuals with expertise in various industries, such as accounting, fundraising, marketing, and law. Ensure you have a diverse board that can accurately represent and resonate with members of your community. Diversity could include, but is not limited to age, disability, ethnicity, gender, race, religion, and sexual orientation.

Craft your vision for Board members: what are their expected roles and responsibilities? Board members are typically tasked with financial accountability; nonprofits usually create a 'give/get' policy', ensuring that Board members are also tasked with a yearly financial donation of a specific amount during their Board term. This contributes to the organization's financial health and sustainability. The Board will also develop roles, committees, and subcommittees, providing individuals with ways to contribute their expertise to the organization in areas such as fundraising, marketing, strategic planning, operations, finance, and legal matters.

With these aspects in mind, develop a list of people you may know with these qualifications that would be motivated by your mission and vision. Set up a meeting to discuss your nonprofit, how they could get involved, and your vision for their participation. Some individuals may not be prepared or available for a long-term financial or time investment; if that is the case, see if they would be interested in alternatives like joining the organization in a more informal, advisory role or as a volunteer. At Catchafire, we know volunteers are invaluable - any contributions of time or talent makes a huge difference!



4. Fill out the mandatory paperwork you need to register your nonprofit.*
This includes drafting and filing:
Articles of Incorporation
Tax-exempt status
Bylaws

In order to legally operate in your state, you must register with your state's secretary of state's office. Review what the registration process entails, as this varies by state. Typically, you are required to file articles of incorporation and provide a copy of your bylaws. You must also apply for a federal employer identification number (what is commonly referred to as an EIN) in order to legally conduct business within your state.

Articles of incorporation refers to recognition as a business by the state you reside in. Bylaws outline the governance of your nonprofit; these are the written rules and regulations that explain how your nonprofit will be run. This includes information on the organization's purpose, membership requirements, and how the Board of Directors will operate (How are they elected? How/when are meetings conducted? What is the decision-making structure?). The Board regularly reviews the bylaws and updates them as needed. New Board members are required to review the bylaws and sign their agreement as well.

Then, file for tax-exempt status with the IRS, based on the type of nonprofit you are trying to register as (for instance, 501(c)(3) or 501(c)(4)) and the corresponding process for filing. Another option is seeking financial sponsorship; read more about what this means and how this could apply to your organization.

The tax-exempt status form asks for detailed information about your organization, including its purpose, structure, and activities. Ensure that you keep your paperwork and practices up to date in accordance with all of the rules and regulations associated with your tax-exempt status; otherwise you could lose your tax-exempt status. This requires a regular review and strict adherence to bylaws, detailed records of all financial activities, and an annual filing of all required state and federal tax forms.

Ensure ongoing compliance and financial accountability to contribute to the long-term financial health and vitality of your organization. You must maintain your tax-exempt status to maintain your operations. Without tax-exempt status, you will lose your reputability as a nonprofit and ability to collect donations.

Once your articles of incorporation, bylaws, and tax-exempt forms have been submitted and accepted, you are now able to receive tax-deductible donations! Use your EIN to open a business bank account.

You should also create an account with GuideStar, a nonprofit database that provides information on all registered nonprofits in the United States. GuideStar provides information on the nonprofit's mission and programs, as well as detailed data on program impact, Board and staff demographics, and finances. Many donors turn to GuideStar when looking for public charities to donate to, and this detailed reporting allows them to extensively review organizations before making a decision. GuideStar is a reputable brand, and visibility as a registered, reputable nonprofit on the platform is great for your marketing and fundraising.



3. Build your business plan. What do the next three to five years look like?
Begin creating a strategic business plan by thinking through your organizational strategy. You should develop a business plan and a strategic plan, which are different things but closely related to the success of your organization. Consider conducting a SWOT (strengths, weaknesses, opportunities, and threats) analysis to think through your nonprofit's long-term vision and sustainability. Your plan will outline your vision and the steps you will take to get there.

Things to think through and outline in your plan:
Finances

Create estimates for the income and expenses you expect over the next three to five years.
What are your expenses for starting the nonprofit? What do operating costs look like year to year?
Fundraising plan: how are you funding this work? What is your vision for solicitations and funding requests?


Programs

What does organizational 'success' look like? What are the alternatives?
What are the services you will provide to your community? How?
What are your program goals? How will you measure and evaluate these?
What data, anecdotes, and metrics will you collect?


HR: Many organizations are volunteer-run when they are first getting started and beginning to build out their long-term plan. Consider what growth could look like with regards to staffing and ask yourself:

What are your staffing needs - what kinds of roles will you need to fill upon launch? What about one year down the line? What will qualifications, compensation, and benefits look like?
It goes beyond compensation - What type of organizational culture will you build with your team?


Marketing

Marketing plan: how do you plan to raise awareness of your mission and programs?


Tech

What are the platforms you will need to invest in for your programs and operations? For example, you'll need software and processes for:

Analytics
CRM (customer relationship management)
Email marketing
Graphic design
Internal staff communications
Social media
Processing and tracking donations
Website


6. Build your team.
Who are your ambassadors?

Develop job descriptions, compensation bands, and identify the types of roles and staffing you'll need, both short-term and long-term.

Once you have a solid plan in place, start recruiting staff and volunteers to help get your nonprofit off the ground. You can post notices on online job boards or social media sites, or put up flyers in local businesses and community centers. Be sure to describe what the organization is all about, what kind of work volunteers will be doing, and what kind of time commitment is required.

Nonprofits with membership to Catchafire receive access to skilled volunteers from around the world, who are able to provide capacity support on a variety of projects, including anything from marketing to finance to HR to fundraising to leadership coaching and more. Grassroots, resource-constrained organizations strongly benefit from Catchafire; with volunteers providing capacity support, nonprofit staff can focus on their to-do lists and mission. Volunteers on Catchafire provide support through one-hour high-level consultation calls and longer-term projects on things like graphic design for flyers, translation projects, annual reports, Google Ads set up, Excel training, and more.


7. Develop a fundraising plan. How will you get funding?
Then, begin developing your fundraising plan. One of the most important aspects of starting a nonprofit is fundraising. You will need to identify potential sources of funding and develop a strategy for how you will secure donations. What kind of solicitations will you make, and who are your prospective donors? Ensure the long-term financial health and sustainability of your organization by building a diverse revenue stream. Think through the different audiences that could provide funding to your organization, such as individuals, foundations, companies, and government.

To raise money, you will need to reach out to potential donors and make a case for why they should support your organization. You can do this by creating a fundraising plan that outlines your goals and how you plan to achieve them. The plan should also include information on who your target donors are, what kind of donations you are seeking, and how you will use the money.

Fundraising can be a challenge, but there are many ways to get creative and make your case to potential donors. Storytelling is key; develop a call to action that tugs on hearts and minds. You'll use these core stories for appeals and solicitations.

Think through these questions:
What motivated you to create this nonprofit?
How can you inspire others to get involved?
How will donors have a tangible, direct impact in the community?
Who are they supporting with their contributions?
Why does this cause matter?
What are alternatives to donations - what are other ways people can support your organization?

You can hold events, send out fundraising letters and emails, create a fundraising website, or organize athletic charity teams (the New York City Marathon is one example) with peer to peer fundraising opportunities. Grants can be a great source of funding for nonprofits. There are a variety of grants available, so you should research the ones that are best suited for your organization. Grants can be particularly helpful for starting the organization, or for reliable year to year support.

Whatever approach you take, be sure to stay organized and keep track of your progress so you can update your donors on your progress. Donors want to feel included; keeping donors regularly updated is great for retention and allows them to see the impact of their contributions.


8. Create your marketing plan.
One of the most important aspects of any nonprofit is marketing. Determine what your organization's identity and brand are. You need to let people know what your nonprofit does, what its goals are, and how people can get involved. You can do this in a variety of ways, including online and print advertising, social media, and word-of-mouth marketing.

Your foundational brand assets should include (but are not limited to):

A clear, user-friendly website that is easy to access. Whether it's through organic traffic, paid ads, or word of mouth, a website is often a donor's first interaction with an organization. You want to ensure that it's up to date, easy to read, and easy to understand what your organization does. Ensure there is a clear call to action for how people can get involved to support the cause, and a donate page that is easy to use. Your donate page should include recurring donations as an option - sustainable, month to month support at any donation level goes a long way.

A logo that aligns with your brand and is memorable since it will be used across all of your materials.

A comprehensive brand guide that explains your visual identity and messaging to refer to your mission and programming. Brand guides often drill down into things like logo styles, typeface, logo placement, and more. Sometimes, they also provide messaging guides with words to use or to stay away from when talking about the organization's programming, partners, or beneficiaries. Regularly review your brand guide to ensure it is up to date with the latest assets and messaging.

Review all of your language with an equity and ethical lens, to ensure that you are speaking ethically about your organization's work and community. For example, many nonprofits have been accused of white saviorism when working with communities of color, positioning themself as 'rescuers' or 'saviors' who are stepping in, instead of giving communities the agency and resources to help themselves.

As you work on an overall marketing plan, develop a marketing plan tied exclusively to your nonprofit's launch. Brainstorm through these considerations:

Is your website ready?
Is there a press/PR plan? How will you get your name out into the community?
Have you created your social media accounts? Develop a launch campaign with associated branding, copy, and (if you have the budget) paid ads to elevate your brand.
What are your Board, staff, and volunteers doing to network and conduct outreach in the community?
Will you have a launch event in the community to get people's attention and meet potential supporters?


9. Launch!
By following these steps, you're ready to go! Identify a launch date in coordination with your fundraising, staffing, and marketing plan. Consult with your Board and your organizational ambassadors on raising awareness for your nonprofit for your community members and for your prospective donors. Network with other nonprofits, city agencies, and community organizations in the community and related to your cause; consider ways you can partner and collaborate to conduct your programs.


---
Receive Nonprofit Expertise with Catchafire

Nonprofits receive access to Catchafire through our partnerships with grantmakers.

As part of their membership, nonprofits receive:

A volunteer for every need: Access to thousands of highly-skilled volunteer professionals ready to provide project support.
Coaching and professional development: Nonprofits have access to one-on-one coaching, monthly trainings, and a nonprofit Executive Director support group to build a community around learning and growth.
Unlimited access to professional nonprofit advisors: With over 10 years of experience each, our nonprofit advisors are on-demand for advice, feedback, and decision-making support.

Here's a short video tutorial on how it works.

You can read volunteer and nonprofit impact stories here and visit our blog for more volunteer and nonprofit spotlights.

If you're a grantmaker and would like to learn more about equipping nonprofits in your community with responsive, high-quality operational support, let's connect. Email us here.


---

*When following the process for legal registration and financial compliance for your organization, we recommend you seek the professional advice of legal and finance experts. This article serves as a guide by Catchafire, but should not be held liable as your sole source of legal or financial information.


Share this article
Copy the link, then close this window.